Hello Thursday! Meet my blog group, comprised of a fantastic group of ladies  who will dazzle you with insight on various topics.  After reading my post, check out their blogs as well. Just click on:
Froggie (Tracey): One frog's distinct voice on the world around her.
Merry Land Girl (Melissa): Tales of a suburban mom who likes to talk about pop culture, books, Judaism, family, friendship and anything else that comes to mind.
Darwin Shrugged (Denise): Civilized Observations in an Uncivilized World
I was making dinner when my husband told me the news about Robin Williams. My immediate response was, "Is that for real?" I know some people like to add false reports to the online rumor mill, and often a celebrity has "passed away" who is in fact alive and well in Tinseltown. After he confirmed that Williams had in fact passed away, my second response was, "I'm shocked, but I'm not surprised." Not that I'm an expert on human behavior or a licensed psychologist, but he acted erratically a lot of the time, and his attention seemed to always be on making others laugh and making others feel good, bypassing his own happiness. I think he was a man in immense pain, a pain no one could really fathom or understand. The news made me feel somber and introspective, and of course like probably everyone else out there, I started to Google Williams and check out random videos from charity events and speaking engagements and movie clips. I wanted to feel as though someone I'd practically grown up with, someone who had entertained me, made me cry, made me laugh and did such wonderful things for humanity was still there, was still a part of my world.
I dwelled on other celebrities who had passed away shockingly in my lifetime, the ones I took great pause for when initially hearing the news. For this week: Robin Williams' death has shocked the world.  What celebrity deaths have you found most shocking, and why?
I was in the third grade when the Space Shuttle Challenger exploded during its flight, killing all seven crew members on board, including a teacher named  Christa McAuliffe. She was part of the Teacher in Space Project, and was the first teacher launched into space. A television had been brought into my classroom for the special event, and we watched with anticipation, only to become a witness to tragedy. I bet most of the people from my generation remember that day in 1986.
A few years earlier (1981), John Walsh was desperately looking for his son, Adam. Adam had been abducted from a Sears store in Florida, and later found slain. Even though I was only a few years old, I remember this. At the time, John wasn't a celebrity. He worked in hotel management during the time of his son's abduction, but afterwards he strove to ensure that no other child would go through what his son had gone through. John became the host of America's Most Wanted to help catch criminals. Code Adam, a missing children's safety program created by Walmart went into effect in 1994, locking down department stores throughout the country if there was a potential abduction. It's still used nation-wide to this day.
Where were you in '94 when you heard that Kurt Cobain was dead? I was in high school, and couldn't believe it. Nirvana had been my favorite band. I still have every CD, even the ones where Kurt is mostly screaming. I'm the girl who was dancing to Smells Like Teen Spirit during a middle school dance while everyone else just stood around watching me in bemusement. There were a lot of conspiracy theories, but it all led to the same consensus: a true talent was gone.
I love Saturday Night Live, and two of the alums, Chris Farley (d.1997) and Phil Hartman (d. 1998) were like shining stars, with lights that faded out way too soon.  So incredibly sad.
I love all sorts of music and have always been partial to Tupac's. There was something about him, a tough gangster who was on the verge of becoming a super star. He always sang about his reality, even if it didn't fit into what was right for everyone else. Shot multiple times in a drive-by shooting in 1998, his potential on this Earth had been cut too short.
I was visiting my hometown of Salem, OR when I heard the news about Aaliyah (d.2001). It was on the drive over, and all the radio stations were broadcasting the tragedy. The small plane she'd chartered during an overseas trip for a music video had crashed, and everyone on board perished. I remember feeling incredibly shocked at the news. I loved her music.
Britney Murphy… I thought she was great in Clueless, her breakout movie and the indie movie Drop Dead Gorgeous. I feel she was just getting started before passing away from cardiac arrest in 2009.
In more recent years, the deaths of Philip Seymore Hoffman (d.2014) and Paul Walker (d.2013)  presented shocking scenarios. Walker died from a car accident. Hoffman from a drug overdose. Both men were too young, as are the rest of the people on my list. I think it's always more of a shock when it turns out to be someone who never got to live as long of a life as you'd anticipate. It doesn't seem fair and that makes it all the more tragic.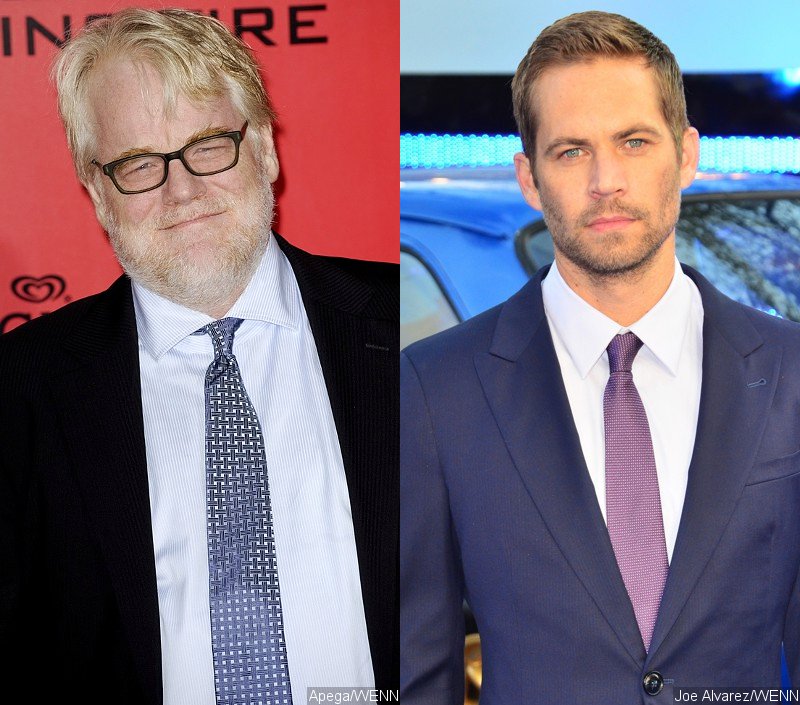 So, what celebrity deaths have shocked you the most?