Nin is ready. She's ready to leave the small town she's grown up in, leave her parents. Ready to start a new life all on her own. As much as she loves her parents, leaving them behind can't come soon enough. It feels as though her mother in particular has no clue as to what Nin goes through, what she needs or wants from the world. There's an underlying struggle, one she doesn't want to address. It's easier to run away from the problems in her life.
Louise is the typical all-American mom, the one who'd married her high school sweetheart, Dan, who spent most of her life devoted to her little family, her only daughter, Nin. Louise has always felt she's lived a charmed existence, but lately it feels as though everything she's depended on, relied on is changing up on her. There's no getting through to Nin. It's a battle, feeling as though they just don't get one another anymore, not like they used to when Nin was younger.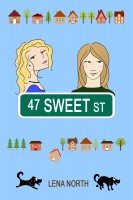 47 Sweet Street showcases the strong dynamics between a mother and her daughter, and how often, the perceptions you have of someone rarely matches up to reality. When Dan has to leave town due to work obligations, leaving Nin and Louise alone, the reality of life unfolds for both characters. There is no white picket fence, not really. What you see on the outside doesn't always match what's inside, and even the best of families have their issues from time to time.
This was a sweet, simple story on the realities of growing up, getting older, and becoming wiser to the world. Life isn't easy, but it's a lot more bearable when you have your support system to rely on, and support you. I really enjoyed the love in this family, no matter how flawed it may be, because it's real, and honest.
Reviewed for Chick Lit Central